Substance Painter Challenge
Allegorithmic and Sinespace collaborate to bring you a challenge! Read on for the full details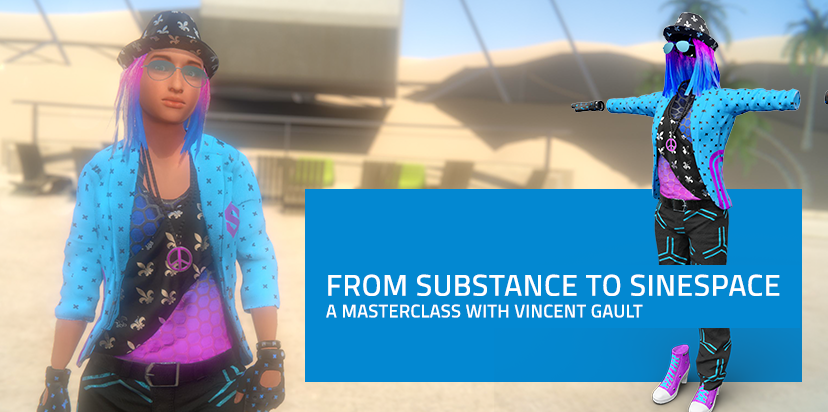 We are excited to bring our first Substance Painter challenge in Sinespace in partnership with the fine folks at Allegorithmic. You can win one of three Substance Indie packs, with a years subscription, courtesy of Allegorithmic, each winner will also receive a years subscription from us to our "Standard 5" plan.
You can watch the Masterclass live on our Youtube channel here. (Update: the recording of the video is now live here - we'll post a higher resolution cleaned up and edited version on Monday.)
To get started with your entries, you will need a copy of Substance Painter, and a copy of the target models (see below) - you can download the fully featured Substance Painter demo here. We will be looking for the most original and best content which showcases the Substance products to their fullest. We are looking forward to seeing what all of you will be creating!
Submit your images, and work in progress shots to our forum thread here.
Go forth and make something amazing!
Prizes
There will be three prize packs availible (worth over $1100 each), prizes include:

A 1-Year Subscription to the Indie Substance Monthly Plan, sponsored by Allegorithmic
A 1-Year Subscription our highest "Standard 5" package for Sinespace, sponsored by us.
Template Models
You can download the template models and a presetup Substance Painter file built for Substance Painter 2017.4 here. You will be texturing these models specifically. To ensure a level playing field, changes to the models are not permitted.
The Rules
The contest will run from 2nd December 00.00 UTC until 22nd Jan 2018 24.00 UTC.
Contestants should submit three to six still images that communicate both creative and narrative details. They will help to tell a compelling story through both their functionality and design.
Contestants are expected to compose a design sheet for each item with front, back and side views which also describes its function and design features.
Work-in-progress artwork to show the progress of your entry including silhouettes, back views, sketches, progress shots.
As a part of the submission, we expect entrants to include a description ( a short paragraph or colour scripts/mood boards) detailing what mood and design they are working towards in the supplied images.
The final item must be uploaded into Sinespace by the deadline. (Details to be announced with the competition model release)
Sourced materials (such as textures, items from Substance Share and Substance Source) must be clearly indicated in your submission email. Priority will be given to original compositions, but judgement will be on the final result. You may use the items in Substance Share and Substance source as base textures without concern (but do note which were used).
You may use the entire substance suite when designing your entries, but they must be designed inside the Substance tools.
Submissions
Contestants should submit their still images to our forum thread here, and email the name or ID of the item as uploaded into Sinespace to contact@sinewavecompany.com. If you need help uploading content, we have a dedicated support channel for developers on Skype (join link) which we recommend taking advantage of. (For more technical users, we also have a XMPP bridge to our 'in-world' developer chat here)
Deadline
The deadline for the Substance Painter category entries is Monday, January 22nd, 2018 24.00 UTC
Winners Announcement
All winners will be announced and posted on the Sinespace Blog on January 29th, 2018.
Eligibility
Artists participating in the Substance Painter Challenge must be a member of Sinespace and must have used Substance Painter to design their entries. Entry is limited to individual artists, so Team entries are not eligible.
To get involved, sign up to sinespace now!