Introducing the Certified Creators program
Coming soon, we'll be recognising creators who have demonstrated consistent high quality work in the platform, with some new options for publishing your content (and other perks). Read on for more details.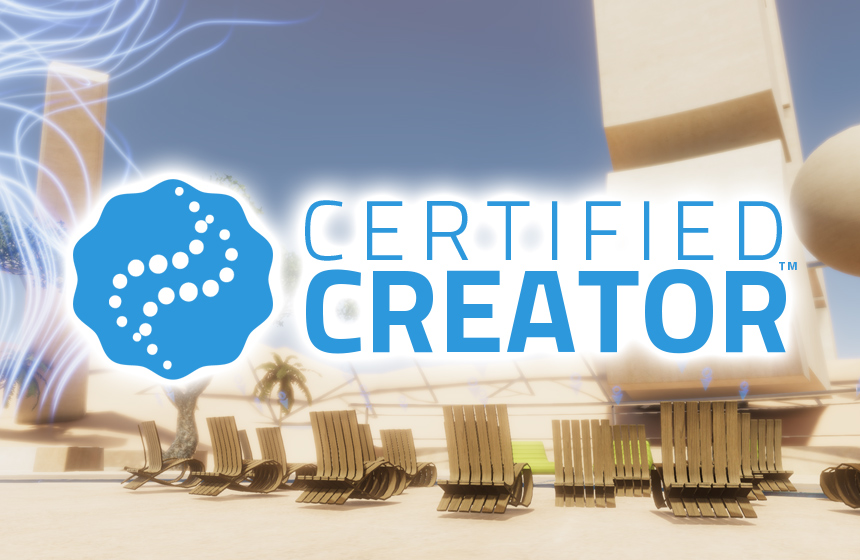 Hi everyone! We are excited to announce our new Certified Creators program, over the next few weeks, we will begin rewarding artists and developers with an exceptional track record of uploading excellent original content in Sinespace with the title of Certified Creator. Certified Creator status will bestow additional privileges to content developers (varying a little based on grade), up to and including granting some developers with the rights to publish to the marketplace directly without the normal review process; and a host of other benefits.
We are launching this program to reflect our trust in Sinespace developers to continue growing Sinespace with great, fresh content which respects the rights of creators everywhere. We're humbled and excited to already count hundreds of people who create and regularly upload their content to our world - they come from everywhere: successful 3D artists from other virtual worlds, developers who got their start in Sinespace or Unity3D, members of the game industry who want a showcase and market for their individual talent, and beyond.
Thanks to our fantastic community of developers, we've had some great progress in the past few months to report;
New content creation is increasing - the past two months are both record breaking months for new content. New content is up by nearly 50% from the preceding few months. (And we're seeing some great content from new and old developers!) and lots more is making it to the marketplace for general users to enjoy.
Our user numbers have been growing - in the past three months Sinespace's recent users grew over 50% -- hitting 15,000 in August, up from 10,000 in June. 
Sinespace users are also buying more content from creators -- we're seeing more users buying paid content, more often. Our new simplified cashout process should make it easier for developers to get money back out more often too.
So from everyone at Sine Wave, we'd like to say thankyou for being such a great community, and without further commentary the details for our new Certified Creator program are below. These might make sense only to existing developers, so if you're interested in learning more about content creation in Sinespace, we'd suggest taking a look around the main Sinespace website, as well as our Wiki, Discord - and of course, feel free to contact us directly.
Program Details & FAQ
Below is a few more of the specific details on our new Certified Creators program which is designed to recognise developers who consistently contribute original high quality content. We'll have a dedicated set of webpages covering the finer details of the program over the coming weeks; but today we'll be giving you a synopsis of how the program works and some of the specific benefits available.
To begin with - there is a few grades of certification, the highest grade (our 'Platinum Grade') will be able to list and update content directly in the marketplace without our assistance. At the level below this, our 'Gold Grade' creators will be able to push content live without review for what is deemed 'personal use items' (such as personal regions, and other content with limited distribution options). There's a few more perks listed below.
As most developers in the platform know, we use a review process to ensure that malicious, infringing or disruptive content is not added to the live servers ("with great power" and such...), and also making sure that customers who buy products/items find they work as advertised. The certified creator program allows high quality creators to switch to a post-review model where mass distributable content is instead reviewed after the fact by our review team rather than beforehand.
To achieve both these grades, you will need to have submitted a signed copy of our creator agreement back to us (this is a normal procedure when doing your first cashout, and most creators should have filled that out already) and have already submitted a collection of items to review.
Access to these programs is by invitation, but we are on the lookout for new creators to add to the ranks every day. What we're looking for is a consistent demonstration of the following;
Commitment to producing content that does not run afoul of others rights.
A track record of complying with the resource limits we place on items such as clothing
Honourable behaviour when interacting with reviewers, customers and other platform users.
To achieve the gold grade we need to see at least a few items passing review successfully, for the higher platinum grade, a much larger quantity of original work over a longer period is required. Invitations to the platinum grade will be personally reviewed and approved by our senior management.

Can I queue jump to the higher grades?
Generally no, however if you are an established developer in a large digital marketplace who have a library of high quality content and a solid reputation known to us, earned over a long period of time, we will factor that into our decision making and may allow a expedited entry; but generally we prefer to recognise and reward creators who have worked within the platform already.
I'm a customer, will this affect the quality of items I buy?
No - besides having strict criteria on who can participate (and having a established track record), we still will be reviewing items submitted to the marketplace this way. We'll just be doing so after they have been approved by the creator. Our goal is to ensure you know that when you buy something in our marketplace, it works as intended and meets all of our other quality guidelines for paid content.
What happens if a creator approves something themselves that is later rejected by a reviewer?
Depending on the severity of the error (we will particularly frown on malicious actions or carelessness, such as not testing an item before approving; or approving an item knowingly breaking one of our rules) we may withdraw the right to self-approve content, permanently.
If you as a customer buy an item that fails our own internal review, there will be a few options we will pursue to protect your rights as a customer; we may do any of the following;
Refund and withdraw the item from the platform, or
Temporarily suspend new sales and give the creator the opportunity to fix it, or
In the case of updates, revert it to a previous approved version.
Are there any other perks?
Yes, besides self-review options - both grades of creators will get a few added perks.
First you'll get access to unique inworld titles
You'll also get the right to use a special partner logo on your websites and promotional imagery that indicates our recognition of your consistent high quality. You can even use it as a badge in other marketplaces if you want.
We will also allowing the marketplace search to filter by certification grade in a future update.
I'm a creator, what if I'm unsure about an item?
If you're an approved creator who can self-review, but are on the edge whether something is going to be okay or not, never fear - the existing review process is still available. Just drop it in the review queue as normal, and we'll evaluate it - if you get a rejection, we won't count that against you or your certification status.
When will the first creators get certified?
We're currently finalising the first wave of invitations, we'll update with another blog post as soon as that wave has gone out along with a new program details site. Future invitations will be sent during content reviews (so keep regularly submitting new work - it is the easiest way to get noticed by our review team)
I have further questions!
Sure - you can find us inworld, on our Discord server or email us directly at contact@sinewavecompany.com.