Event Showcase - Music @ Gothika
This is our first event showcase! We will be showcasing different events on our blog, and this first one goes out to Gothika! They were the first club to go up in Sinespace, and we love the gothic style that comes with them. Here's a breakdown of their events!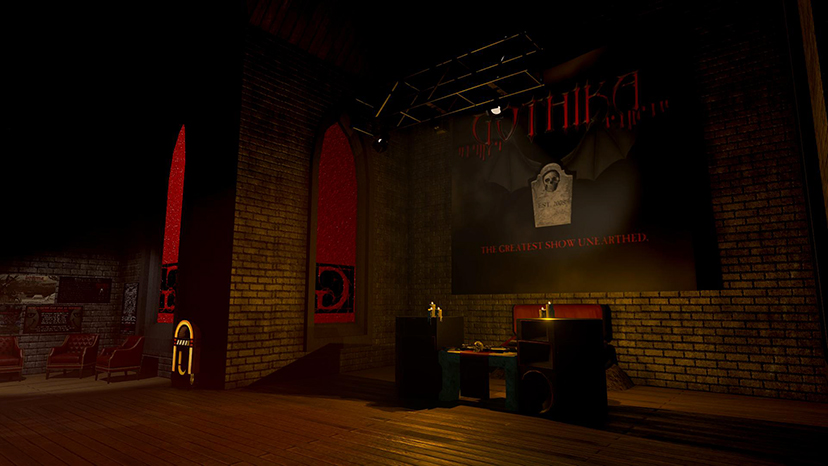 Gothika is our resident gothic club, with DJ Bronxelf and Pie darkening up the club with their unique music choices. DJ Bronxelf loves to draw out the vampires with her late-night shows; Dark Wave and Night Apocalypse; Pie plays a mix of music in his two sets in the week.
Hop into Gothika using the 'Explore' button in the viewer at these times and have a blast!
Mondays: Critical Mass with Pie  3 AM - 5 AM UTC
Tuesdays: Dark and Sticky with DJ Bronxelf  5 AM - 7 AM UTC 
Wednesdays: Pies' Schrodinger's List  3 AM - 5 AM UTC
Fridays: Dark Wave with DJ Bronxelf 5 AM - 7 AM UTC
Saturdays: Night Apocalypse with DJ Bronxelf 5 AM - 7 AM UTC
Other Weekly Events
Our routine weekly events include other DJ events such as Classic Rock with DJ Ghaelen and our Techinal Office Hours!
Tuesdays:
James Olmos - Live Acoustic in Guitarahalla 1 AM UTC 
Wednesdays:
Artist Masterclass with Adam in The Welcome Center 4 PM UTC:
Come learn something new - each week we'll approach some facet of building high-quality content, such as lighting, materials and more; and try to teach you some new tricks! If you have missed any of the Artist Masterclass series, you can watch the replays on our Youtube channel.
Technical Office Hours with Adam in The Assembly 5 PM UTC:
Join us for our weekly technical office hours with Adam - Come ask questions on how to do things, or learn about upcoming features and developments. 
Fridays:
Community Team Office Hours with the Sinespace team in The Assembly 1 PM UTC:
Come join our team for a general Q&A 
Saturdays:
Retro Beats with DJ Ghaelen in Guitarahalla 8 PM UTC
Join DJ Ghaelen for a mix of music from the 50s to the 80s
Music with DJ Rosa in Guitarahalla 9 PM UTC
Join DJ Rosa for a mix of classic rock and Latin rock to get your feet tapping
Music with DJ Kathryn in 381 Club 10 PM UTC
DJ Kathryn has a mix of everything for you to enjoy