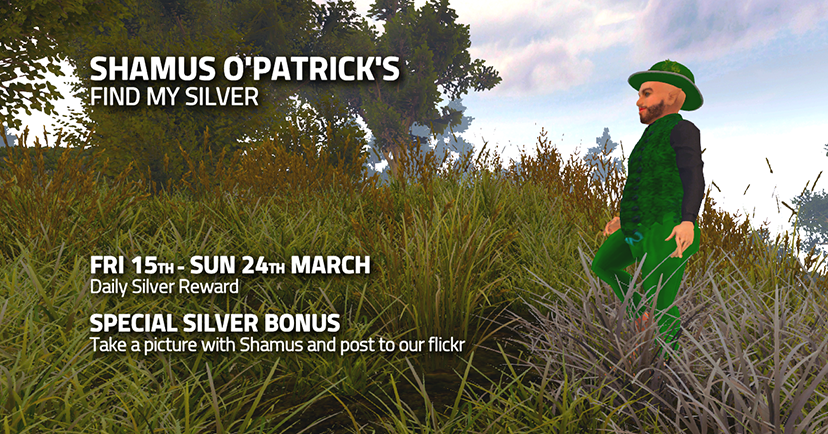 St Patrick's Day Events!
A week long celebration with Shamus O'Patrick.
| Thursday February 28, 2019
Join In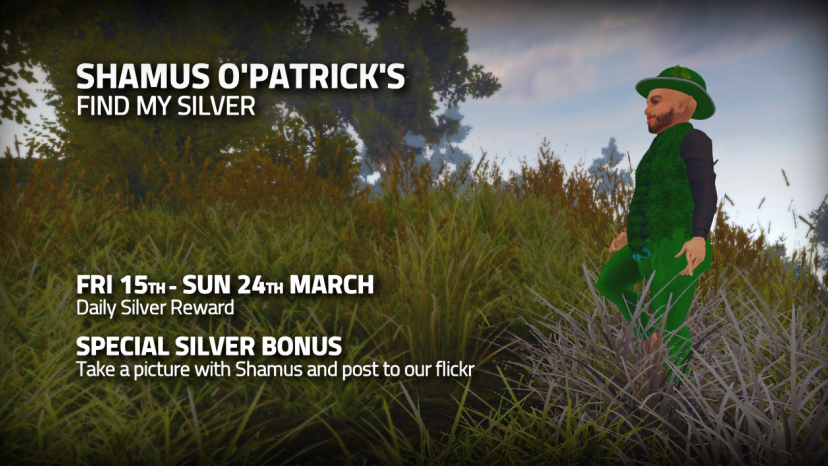 From 15th March - 24th
Shamus challenges you to find his silver and receive a reward daily. He has carelessly thrown silver around in various places in sinespace and covered the pile with one of his many spare green hats - can you find it all? He has kindly left you the location of the next place to look. Once in the next region solve his riddle to help you find where he has hidden his hat with your reward.
Here are some of the wonderful regions you can find Shamus's hat in -
Welcome Centre

Dessert Race Track

Ziggies

Guitarahalla

Dustvale

Snowspace

SassyIceRaces

Gothika

Convergence

The 381 Club

And more to come….
Happy Hunting!
BONUS REWARD!
Once you have found your way to the end of Shamus's quest you will find him waiting to greet you. He will probably be snoozing so best to tap his hat to wake him. Shamus LOVES taking pictures with people. Take a picture with Shamus and share it on our Flickr page to receive a Bonus reward. Shamus will be checking it a few times a day to so he can thank you for sharing him.  So he knows who to send it to, please put your name in the description on the image. Please only send in one picture per person to receive the bonus reward.
St Patrick's Day March 17 - 381 Club Best in Green
The 381 Club will be hosting a Best in Green contest!

Dress up in shades of green and have the best outfit to win the prize!

1st place will win 2000 gold and 2nd place will win 1000 gold.
Welcome Centre:
1 am - 2am UTC
Dance on the boardwalk in the Welcome Center with Shamus and WIN HIS GOLD! random winner 100G every 15 min while Jay and Les will be mixing up the tunes!
If you would like to join this silver hunt and you don't have an account, join now!